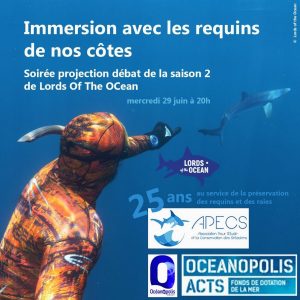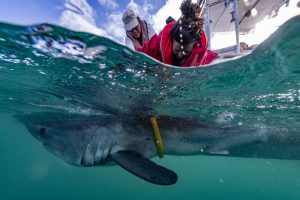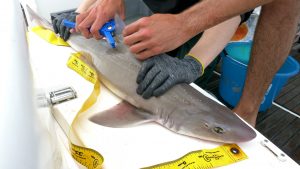 Exceptionnelle soirée à Océanopolis à la découverte des grands requins en Bretagne en présence de l'équipe « Lords of The Ocean » et de l'APECS
A l'occasion du 25ème anniversaire de l'APECS (Association Pour l'Etude et la Conservation des Sélaciens) dont les travaux sont soutenus depuis plusieurs années par le Fonds de dotation, Océanopolis Acts a choisi de sensibiliser le plus grand nombre sur la nécessité de préserver les grands requins très présents au large des côtes bretonnes.
En collaboration avec l'APECS, Océanopolis Acts vous invite à assister à la projection-débat de la saison 2 de la web-série réalisée par l'équipe « Lords of the Ocean » le mercredi 29 juin à 20h à l'auditorium d'Océanopolis Brest (Entrée gratuite – Ouverture des portes de l'auditorium dès 19h30).
En présence sur scène de Tristan Hatin, Responsable Médiation Scientifique et Culturelle pour Océanopolis, les membres de l'APECS et les réalisateurs du film évoqueront les raisons et les circonstances de la création de cette web-série, dont la seconde saison se déroule en Bretagne. Cette séance sera également l'occasion de rappeler la présence de grands requins en rade de Brest et de sensibiliser le grand public présent à l'importance de préserver ces espèces marines.
A noter que les dons récoltés à l'occasion de cette projection seront reversés à l'APECS pour l'acquisition de balises d'observation des requins en Bretagne.
Places limitées sur réservation obligatoire sur :
Accès par l'entrée Grand Public d'Océanopolis Brest sur présentation de votre réservation.
Cette invitation ne donne pas droit d'accès au reste du site d'Océanopolis et de sa visite, en dehors des jardins.